Businesses use decorative window film for their flexibility in design, ease of application, and affordability. But, organizations who are new to this are curious as to the applications they can use it for. 
They often wonder if it will solve their problems, fit their needs, and if it will look aesthetically pleasing. 
As you will see in this article, there are many options, styles, and designs to choose from when thinking about decorative film. 
Decorative film options
Window film in and of itself has many different applications. Security film, solar film, and of course variations of decorative film. With decorative film, a business can choose to have their logo, a window advertisement, or a simple design to make the aesthetic of the facility more appealing. 
Here are some decorative film styles a business can choose from:
Stained glass
Textured
Colored
Frosted
Etched
Gradient
Custom
Nearly any design/style option you can think of can be done.
Examples of decorative window film
The best way to know if decorative film is right for your business is to see it in action. Below, we have put together a collection of real-life examples of businesses that use decorative film on their windows, walls and/or door.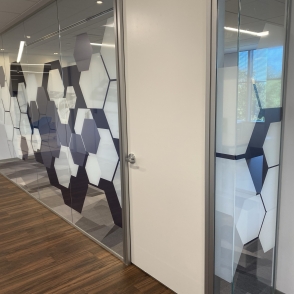 Designs and Applications
With the ability to create custom creations, logos, and simple designs of elegant flowing lines and colors there are a near limitless amount of designs and applications to choose from. To provide you with ideas on how your business can utilize decorative film here are some of the common applications used by businesses.
Aesthetics and environmental feel
Adding visual interest can make a facility feel more fun or professional. It breathes life into a boring area and makes your visitors' experience a better and more memorable one.
Branding
Many businesses use window film to present their logo, colors and other aspects of their corporate identity. This helps to make your organization more memorable and also helps create visibility from foot traffic.
Privacy
Many facilities utilize decorate film to add privacy to offices and meeting areas that use glass windows, doors and walls. It's a great way to provide privacy while keeping office spaces beautiful.
Protection against UV light
Whether intentionally or as a secondary benefit, window film can provide protection from UV light and glares. This is great for storefronts to protect their products or for facilities with large windows that want to reduce sun glare.
Is decorative film right for your facility?
As you've seen, decorative film has many applications and styles to choose from. It can be used as a purely decorative aesthetic or provide functional purposes like shading a business's interior and providing unique branding initiatives. 
Window film is affordable and the installation process causes minimal interference to a business's operations. Due to its unique properties, it can be changed at any time without damaging windows and is often accepted by commercial landlords. 
If your business is looking for a simple and affordable way to improve aesthetics in a big way, then the decorative film may be perfect for you. 
Give us a call if you have further questions or would like to inquire about available solutions. We are a decorative film and tinting company serving Virginia, DC and Maryland.