When it comes to your workspace, color vinyl logos make quite the impression.
When one of the leading Diagnostic Radiology centers in Baltimore reached out to us about our products and services, we were determined to give them our best. This month, the professionals from Film Room Glass & Tinting took a trip into the city, to help our friends at Saint Agnes Seton Imaging Center. The goal was to find the right glass film tinting, that will not only set the mood but will also match the same care and compassion that they are known to provide.
When it comes to applying glass film to healthcare-related office environments, finding the right ambiance is one of the most important things to take into account. Thanks to our extensive catalogue of film, we were able to pick the right film to turn Seton Imaging Center's internal space into a calming and positive, but professional atmosphere—not only for visiting patients and their families, but for employees as well.
The healthcare professionals decided that our Color Vinyl Logo & Lettering was the right film option for their workspace. As you could see in the images below, our skillfully rendered Logo & Lettering film makes a warm and welcoming impression by applying the company logo and text on a frosted glass tint.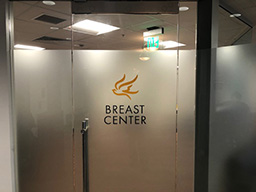 The film option that they chose, not only suits the environment in a calming and positive way, but what makes our Color Vinyl Logo & Lettering perfect for this Saint Agnes' Baltimore Diagnostic Radiology location, is the sense of warmth and privacy that it also brings to the space.
All of our vinyl film catalogues are guaranteed to match any color swatch you will find at the big-name stores like Sherwin Williams or Benjamin Moore and any Pantone color code, to ensure your company's logo and lettering is projected the way your brand is supposed to be.
Whether you're in the market for film that suits anywhere from storefronts to entire office spaces, Film Room Glass & Tinting only uses the best in technology and laser cutting to produce ambiance-minded, durable, and high-performance designs for your company's workspace. When it comes to making the right impression for visitors, patients, and even the staff, our skillfully rendered logos and lettering projects your brand, from the lobby, to conference rooms, and even the reception window.
To create a perfectly calming, positive, and professional healthcare environment, while presenting visitors, patients, and employees a true sense of your brand, click here to check out our glass and decorative film catalogue. If you're impressed with the work we did for the Saint Agnes Seton Imaging Center's office space, and want to see other examples of our work, click here. It you just want to learn more about how Film Room Glass & Tinting can help you upgrade your office space, click here for our services.