Glass conference rooms and office wall partitions add a beautiful aesthetic to the modern office but they are terribly lacking when it comes to privacy. In order to add a level of privacy without sacrificing the elegant professional look, companies choose to have privacy film installed on the walls of the conference room.
Privacy film is an easy, affordable and beautiful film which overlays on walls and glass. It comes in a number of styles, designs and can be customized to fit a business's needs. It's a popular choice for businesses looking to add privacy, or style to their windows and walls. 
Why privacy film for meeting rooms?
Privacy film is used by many businesses because of the unique benefits it offers. When done by a professional, it is a simple process that brings many benefits. 
Here are some the benefits companies get with privacy film.
Provides privacy in varying degrees
The most important aspect for someone looking for privacy is the ability to well, offer privacy. Privacy film provides privacy by blocking the view from those on the outside of the room. Businesses can choose the color and type of film which offers varying degrees of privacy. So, for a conference room that needs a simple amount of privacy so those inside are comfortable that attainable. And for those who want to work completely in private, there are options for that as well.
Improves aesthetics
There's a reason most businesses don't simply throw up a curtain to add privacy. It's not an attractive look. Privacy film on the other hand actually improves the aesthetics of the conference rooms. There's an endless amount of colors, styles and designs to choose from which actually improves the aesthetics of most plain glass meeting room walls.
Little disruption to operations
When we install privacy film for our customers there is little disruption to their business operations. The process is relatively quick depending on the size of the job and installers will do not need to block foot traffic.
Affordable
Compared to the alternatives of etched glass or custom glass, window film is extremely affordable. Privacy film offers the same look and quality but is much more affordable, making it a no-brainer for most facilities.
Doesn't alter the glass itself
Many glass solutions are permanent and if a business wants to change the look of the glass down the road, they will need to replace the glass in its entirety. Privacy film however, does not alter the glass itself. If a business decides down the road they want to change the design or remove it altogether, it can be done without any hindrance to the glass. In essence, window film can be a permanent solution but it doesn't have to be.
Privacy Film Styles to Choose From
Every facility has its own unique environment and aesthetics. Covering conference room walls with any design available simply won't do. If an organization is seeking to add privacy to their offices or meeting rooms it must be done in a way that maintains the aesthetical look and feel carried out throughout the facility. 
Businesses who choose window film are able to do that with a wide variety of styles and designs to choose from. Here are some of those styles.
Window Frosting
Gradient
Etched
Sand Blasted
Dusted
Solid colors 
Textured
Custom
Check out some real-life examples of conference rooms we've installed privacy film on: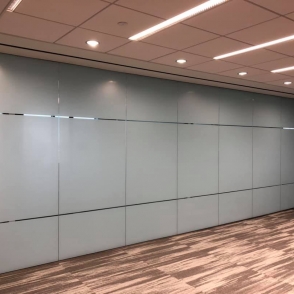 Whether you want full or partial privacy for your glass walls or partitions, decorative privacy film is a great option. Organizations can have designs that match their branding or simply have something that looks nice. With window film it's easy to find a look that's both appealing and offers the level of privacy that your meeting rooms require.