Glass window film aesthetic is key when it comes to differentiating your brand's visual identity.
When it comes to your brand's visual identity, most business owners and office managers think about business cards, letter envelopes, maybe the company's website, and a bunch of other items you can slap a company logo on. But how often do you think a brand's visual identity comes to mind when designing the interior or exterior of the office itself? Probably not as often as it should.
At FilmRoom Glass Tinting, we understand the true value of an aesthetically pleasing, or at least an aesthetically cohesive, work space—it's what makes us the golden standard when it comes to glass window film and tinting solutions. From decorative film, to custom graphics, our glass film solutions are a true upgrade for an aesthetically pleasing and cohesive working environment that enforces a brand's visual identity.
Decorative Film
Our decorative film options come in hundreds of choices to choose from. With a variety of colors and patterns, a little bit of decorative film that features your company's colors could work as the perfect buffer for meeting space or conference rooms. Here, you can let in natural light, to create a welcoming working environment, or you can choose a decorative film to close-off private meeting space . You can browse our selection of decorative film by clicking here.
Solar Film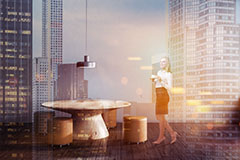 Sometimes, natural sunlight can change the aesthetic of a room—it can even change the entire mood of the people in the room. Our solar film options are perfect for your office space, by allowing in natural light, while offering a green, and cost-effective film solution. Not only does our Solar Film enhance the overall mood of a room, but also sure to reduce distracting fading, heat, and glares in the work space.
Safety and Security Film
For proactive window protection, our Safety & Security Film is the way to go. This thick, durable, and strong film option is caulked to the frame, and tested to ensure quality for any type of window application. Depending on the location of your office space, this film could benefit your work space, available in both, clear and tinted versions to ensure privacy. We also offer anti-graffiti films, sure to protect against paint, scratching, and etching. With this film, when it comes to graffiti damage, we will remove the damaged film and install new film at a fraction of the original cost.
Custom Graphics
When you need to enhance your office décor, while also reinforcing your brand, our custom graphic film is the way to go. Custom Graphics film allows for an eye-grabbing design to make your brand stand out. When your office needs a certain, tailored effect specific to your brand, this film is perfect for your brand's visual identity, offering custom-cut designs for geometric patterns, calls-to-action, and other personalized layouts.
If you're looking to set your brand's visual identity apart, beyond just putting your company logo on a frisbee or water bottle you'll hand out at a trade show, check out our variety of glass film options, for a creative spin on the office décor. From aesthetic to privacy, we have glass window film to not only reinforce, but also elevate your visual identity. To check out what film would work best for your office space, click here.